Use of Antibiotics Before a Dental Appointment with Christopher R. Morris DMD
Everyone has bacteria in their mouth. You can't get rid of them completely. In some cases bacteria in the mouth can enter the blood, collect in susceptible areas, and cause infections inside the body in places like the heart or artificial joints. For certain patients, a single high dose of antibiotics is recommended before a dental appointment. This antibiotic prevents infections from bacteria that may be introduced by the dental procedure. Antibiotic prophylaxis means infection prevention.Fortunately, infection after a dental procedure is extremely rare. However, a heart infection or artificial joint infection is a serious problem that will have a long, difficult recovery. Please consult with your cardiologist, orthopedic surgeon, or dentist about your risk.
As research improves recommendations change. The American Heart Association (AHA) updated their recommendations in 2007, and the American Academy of Orthopedic Surgeons (AAOS) updated their recommendations in 2012. If you have taken an antibiotic in the past before a dental appointment, it may no longer be recommended.
Antibiotics have side effects. The more we use antibiotics, the more of a problem antibiotic-resistant bacteria becomes. Clostridium difficile is a digestive condition caused by antibiotics that can be very serious. Do the benefits of antibiotic prophylaxis outweigh the risks? That is the question the AHA and AAOS had in mind when they did an exhaustive review of research before changing their recommendations. They concluded that in low risk cases, the side effects of antibiotics are not worth the benefits.
You may still need antibiotics before a dental appointment if you have one of these heart conditions:
PROSTHETIC CARDIAC VALVES

PREVIOUS ENDOCARDITIS INFECTION

CONGENITAL HEART DISEASE

UNREPAIRED CYANOTIC CONGENITAL HEART DISEASE, INCLUDING PALLIATIVE SHUNTS AND CONDUITS
COMPLETELY REPAIRED CONGENITAL HEART DEFECTS WITH PROSTHETIC MATERIAL OR DEVICE WHETHER PLACED BY SURGERY OR CATHETER INTERVENTION DURING THE FIRST 6 MONTHS AFTER THE PROCEDURE (PROPHYLAXIS IS RECOMMENDED BECAUSE ENDOTHELIALIZATION OF PROSTHETIC MATERIAL MAY BE INCOMPLETE WITHIN 6 MONTHS OF THE PROCEDURE)
REPAIRED CONGENITAL HEART DISEASE WITH RESIDUAL DEFECTS AT THE SITE OR ADJACENT TO THE SITE OF A PROSTHETIC PATCH OR PROSTHETIC DEVICE
CARDIAC TRANSPLANTATION RECIPIENTS WHO DEVELOP CARDIAC VALVULOPATHY
Simply put, if you have an artificial heart valve, if you've had an infection in the heart before, or if you have a heart defect since birth, you may still need an antibiotic before a dental appointment. Note that mitral valve prolapse, a common heart condition, is no longer on the list, and an antibiotic is no longer recommended for that condition.
If you have had joint replacement, you should continue to talk an antibiotic before dental treatment if you fit more than one of the following criteria:
COMPROMISED IMMUNE SYSTEM
POOR ORAL HEALTH
PREVIOUS JOINT REPLACEMENT INFECTION
LESS THAN ONE YEAR SINCE JOINT REPLACEMENT SURGERY
MULTIPLE JOINT REPLACEMENTS (MORE THAN ONE JOINT, OR ONE JOINT MORE THAN ONCE)
BISPHOSPHONATE THERAPY (SUCH AS OSTEOPOROSIS MEDICATION)
It is no longer recommended for healthy individuals under the age of 65 to take antibiotics indefinitely after joint replacement. If your joint replacement surgery was before the age of 65, more than a year ago, and you have good health, you may no longer need an antibiotic before a dental appointment.
If you're into research, you can peruse the AAOS research and recommendations by clicking here. Otherwise, here is the summary: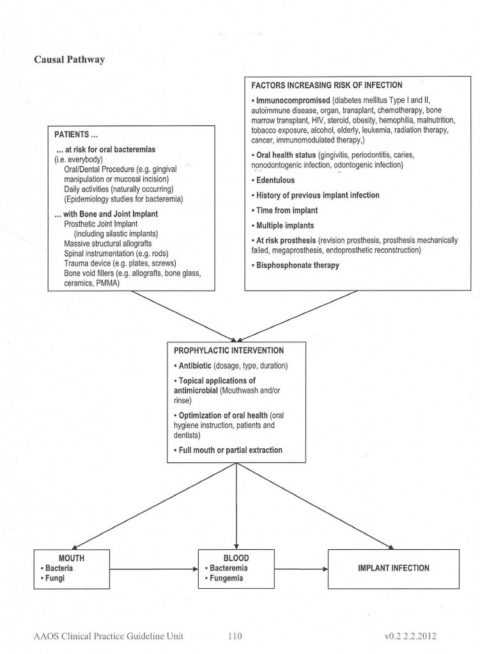 Please consult with your doctors about your specific condition.
With either condition, your risk of infection is reduced by keeping your mouth optimally clean with good home care, and by having regular dental cleanings.