Cost of Dentistry in Littleton, CO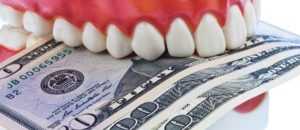 The short answer is that the cost of dentistry will be whatever the economic market will bear. My father-in-law would appreciate that answer. A more detailed answer is interesting. Dentistry combines several factors that are all valued in our society: hand-made, customized health care from a doctorate-educated professional. Everything a dentist does for you is a personal, one-to-one, hand-made service. A dentist can't treat more than one person at a time. They have to be present with you, using their hands to get the job done. Your mouth and your tooth is slightly different from every other person. Your filling or crown has to be customized to your individuality, down to the millimeter, the half millimeter, the quarter millimeter. If I do a mesio-occlusal filling on tooth #14 for you, it's going to be slightly different than the same mesio-occlusal filling on tooth #14 for someone else. Dentistry is not a one-size-fits-all service.
Though the health care cost in dentistry hasn't expanded as much as in other fields of medicine, the rise in cost still exceeds inflation. Health care continues to be one of the most expensive sectors in our economy.
Finally, it's expensive to educate a dentist. The American Dental Association recently reported that the average cost for four years of dental school is $238,000. This doesn't include living expenses or an undergraduate bachelor's degree that most dental schools require for admission. It only makes sense to undertake an expensive education if there is a financial return afterward.
So how much money does a dentist actually make? The overhead cost for a running a dental office is 60-80%. If you pay $100 for a filling, the dentist's personal take-home pay is about $30. The rest goes to additional staff salaries, office space rent, equipment and supply costs, etc.
Is dentistry worth the cost? I believe in the value of dentistry. My practice mission statement is: "As a progressively, professionally trained staff we provide service and treatment of the highest quality to support your best long-term oral health. We believe optimal oral health supports overall health, esthetics, confidence, and happiness. Treatment is provided in a caring, comfortable way that encourages positive relationships built on trust and respect."
Think of the constraints of dentistry. All dental work is subject to saliva, bacteria, and the wear and tear of chewing. We want it to last for years of this abuse. Some patients ask, "How long will this appointment take?" We want dentistry that will last for years, made in the shortest time possible. Yet the materials of modern dentistry are surprisingly good at meeting these demands. There is definitely a value in that.
How can we keep down the cost of dentistry? Prevention and conservative treatment. Brushing and flossing daily really is the best dental plan. I like to be conservative when I recommend treatment to my patients. Does this tooth really need a crown, or can it be fixed with a filling? A crown may be the most conservative option if it prevents tooth fracture and loss. Do you trust the recommendations your dentist gives you? I often ask myself, "What would I do if this were my tooth?"